Download free "
A solemn warning to all the dwellers upon earth, given forth in obedience to the express command of the Lord God, as communicated by Him, in several extraordinary visions and miraculous revelations, confirmed by sundry plain but wonderful signs, unto Nimrod Hughes, of the county of Washington, in Virginia. Upon whom the awful duty of making this publication has been laid and enforced, by many admonitions and severe chastisements of the Lord, for the space of ten months and nine days of unjust and close confinement in the prison of Abingdon, wherein he was shewn that the certain destruction of one third of mankind, as foretold in the Scriptures, must take place on the fourth day of June, 1812.,

" by

Nimrod Hughes

EPUB, MOBI, PDF, TXT, Kindle
---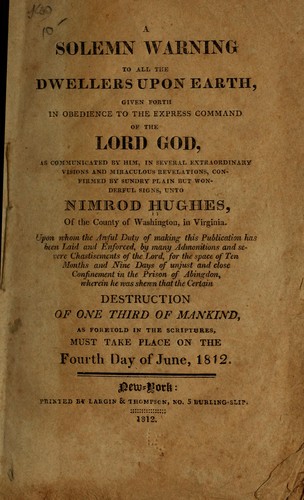 Free Find Ebook
The book was published in

1812
Language:
English
Book description:
Publisher:
Printed by Largin & Thompson, no. 5 Burling-slip
.
Date:
1812.
Place:
New-York
Number of pages:
38
Language:
English
---
This book describes the following items:
Prophecy.,